Extraordinary Woman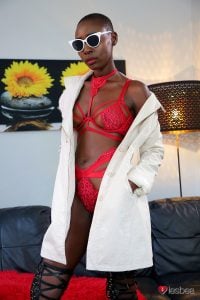 Black as a starless night and as beautiful as summer dawn, that should be enough for the initial presentation of Zaawaadi. Her name in the Swahili language means a gift or present. Kenya is her home country where she was born on October 23, 1998, in a small village. She has a beautiful face, dark-brown eyes and a lovely wide smile. She had long black and curly hair when we saw her for the very first time. She has not changed her hair color, but her hairstyle is completely different that we are going to explain in the following lines. She is of average height and has a sporty type of body. Her tits are natural and have a size of 32E. She has an awesome shape of ass with impressive and hot curves. Except for her ears, she doesn't have any other piercings or body-arts. Zaawaadi grew up in Kenya and she dedicated her first two decades of life to education. She grew up within a conservative and religious environment and by strict rules. She left her country and moved to Germany when she was around 20 years old. She never turned her back on her family but still helps them live decently. Coming to Germany, Zaawaadi continued her education. Today, she works as a nurse in the hospital and has her own family. She has a husband and a kid. Zaawaadi seems to have an inexhaustible source of life energy when she decided to add another task to it all. The task is actually an internal need to explore her sexuality and express her passions to the world.
Kinky Babe
The custom in Africa is for girls to keep their virginity for marriage. When it comes to sex in Zaawaadi's life, things were happening slowly. She lost her virginity at 21, and her next sex act has happened two years later. This woman cannot be said to have been promiscuous but she was exploring her sexuality in her particular way. Zaawaadi and her husband are real fans of porn and he is her greatest supporter. She has an interesting personality. She is curious, spontaneous, attentive and always behaves naturally. Zaawaadi went to Venus Berlin at the end of 2019 where she met Tiffany Tatum and many other performers. After a couple of weeks, she arranged a meeting with Pierre Woodman in Budapest and filmed her debut scene. She got more than she expected and she was delighted with the fact that she finally filmed her first-ever scene. At the time, she was 31 years old. So far, Zaawaadi has made at least 14 scenes. She performed in solo, lesbian and hardcore scenes. Zaawaadi performs with great confidence and passion, which shows how professional her approach is. All of her scenes are a reflection of her urges coming from her heart, mind and soul. Her performing is finely balanced between the edges of her sexuality.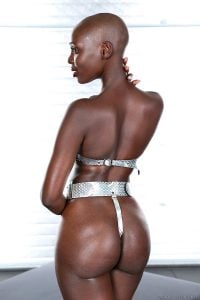 She likes rough sex, but that roughness has to be fulfilled with feelings and meaning, otherwise has no sense. As a great fan of porn, she was delighted by the work of famous Rocco Siffredi. They met in Berlin and he noticed that she is unusually gifted. Rocco made a storyline and directed a movie that is titled 'My Name is Zaawaadi'. The movie's plot describes a love story between Zaawaadi and Tiffany Tatum in four separate parts. Every part of the movie is a little sexual story for itself. The third part of the movie is a lesbian orgy scene where also appeared Cherry Kiss, Malena and Tiffany Tatum. The actors in the other scenes are Michael Chapman, Oscar Batty, Vince Karter and Yves Morgan. Zaawaadi had a shaved head in the movie and she looked so stunning and powerful. She made several threesome scenes where also appeared girls such are Asia Rae, Nanoe Vaesen and Romy Indy. Zaawaadi worked with actors such as Erik Everhard, Ian Scott, Ricky Rascal, Steve Q., Totti, etc. She likes being dominant with men, but she is submissive to women. Her favorite sex position is doggy style and she loves sucking cocks. She made several femdom scenes with unknown guys. Except for Rocco's Evil Angel studio, Zaawaadi also worked for Fake Hub, X Empire, 21 Sextury Network and Deviante. She also produces content for Only Fans, Many Vids and My Dirty Hobby. Zaawaadi is into art photography too. She has a personal website where her best shots are available.
Achievements
Zaawaadi has already achieved incredible success in the first year of her career. At XBIZ Europa Awards 2020, her scene from the movie 'My Name is Zaawaadi' was declared for the Best Sex Scene – Gonzo. She was also nominated for the Best New Starlet. At XCRITIC Awards 2020, she was a winner in the category the Best Scene of the Year, and she also was nominated for the Best New Starlet. Her nominations on AVN Awards in 2021 are a clear sign that she is one of the most rising stars. She was nominated for the Best New Foreign Starlet, the Best Star Showcase, and for the Hottest Newcomer (Fan Award). As a wife, mother, nurse and porn star, we deeply believe that she hasn't enough time for any other hobbies and activities. But she has a dream. She would like to provide more porn content to Africa and especially Kenya helping to fight for anti-rape causes and taking off the stigma about sex in general. Date posted: June 29, 2021 TheLord