Busty Redhead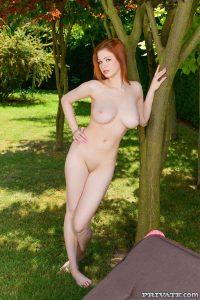 Mother Nature has her wonders and she blesses every one of us in different ways. Thanks to her, Sophia Traxler knows how life with a blessing sized 32DDD looks like. She was born on September 1, 2000, in a small town called Podebrady, in the Czech Republic. This redhead cutie has brown eyes and a magical smile. Except for her tits, the rest of her body is proportionally sized. She is of average height and has a fit body, while her ass is firm and fabulous. This Czech cutie had a cruel life from her teenage years. Due to disagreements in the family, she ran away from home in search of a decent life. After she finished high school, she studied tourism in her home town. In addition to her school obligations, she was forced to do various jobs to earn enough money to live on. Sophia worked as a bartender in a cafe and a bar. Today, Sophia lives with her boyfriend and they built their own home. 
Beautiful Storm
Sophia entered the adult industry suddenly and that's also how she left it. She showed up as a summer storm and blew away the audience and then she was gone. The only motive for starting the porn career for her was money. She is an honest girl who didn't hide anything about herself and her life goals. Sophia filmed her debut scene in the spring of 2019 when she was still 18 years old. Her first scene ever also contains a short interview where she uttered some shocking facts about her life from the past. The scene has been filmed for the Legal Porno studio. She filmed 6 scenes in total and all of them are hardcore. Sophia also worked for studios such are Nubile Films, DDF network and Heavy on Hotties. Interestingly, she performed under a different name in each of her scenes. She used names like Nada, Lucy J, Olivia, and of course, Sophia Traxler.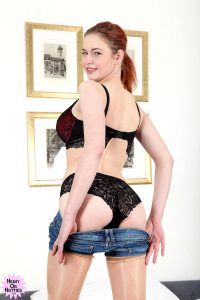 She is completely straight when it comes to her sexual orientation. She may not be skilled as some experienced porn stars, but she showed that she knows how to manage a cock decently. Nonetheless, her scenes are worthy of watching. It isn't too hard to guess that her tits had the main role in most of the cases. None of the actors she worked with, couldn't resist fucking her tits. Those parts of the scenes are simply supreme. Sophia is both dominant and submissive but it mostly depends on her mood. Her favorite sex positions are doggy style and cowgirl. She even made two anal scenes, although she is not a big fan of anal sex. One of those is a threesome sex scene, where Erik Everhard and Erik Klein pounded her holes. Sophia also worked with Chris Diamond, Lutro, Ricky Rascal and XX-Cel. In the fall of 2019, she achieved her goal. With the money she earned, she left the porn industry and ended her career. Her career was short but effective. The audience and many of her fans still have hope that she will return and continue her work. If not, we wish her all the best. 
Private Life
Sophia said that she wants to make a tits reduction. She suffers because of their size because she feels pain in her back, so from her point of view, the intention is justified. She has to keep the muscles of her back strong, so she works out almost every day. This cutie with an innocent face is also a creative soul. She has hobbies that bring some extra money. She is interested in cosmetics and make-up. Sophia reads a lot, but she also writes poems, essays and fairy tales. She is training agility with her dog. Date posted: March 28, 2021 TheLord