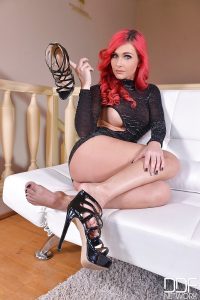 The wonderful redhead Roxi Keogh was born on January 25, 1988 in Leicester, England. This girl liked the excitement and action in every sense from her childhood. The nature gave her wonderful body and excellent sense of humor, which she used in best ways possible. The unbelievable fact is that she worked as a policewoman before her porn career. It was probably a way of living the exciting life. Even though she was getting offers from many photographers, she was refusing them, by the moment when she realized that police life may be too boring for her. We thank the universe for the moment of her decision to enter the porn world.
Red Fire
Roxi started her career in 2014 and worked exclusively as a photo model. She mostly posed alone, where her blue eyes, wonderful tits and juicy pussy ruled the eye of the beholder. Luckily for us, she recorded her first scene in 2016 for DDF Network. That very first scene, as well as all those that followed were lesbo and she performs the hell of them. Her co-actors are more than happy to work with her because she surely knows how to satisfy a woman.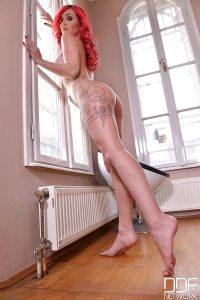 Her tongue is a super-orgasmic machine. She worked with names like Honour May, Kayla Green, Lou Lou and Sienna Day. The best showcases of her talent are Fake taxi episodes. She doesn't have a favorite sexual position and minds only that is rough and deep. You can find her works on websites like Digital Playground, DDF network and Fake Hub. 
Naked is Only Natural
This fierce redhead has lots of followers on Twitter where she is also the most active and regularly posts hot pics and videos of her body. She likes to go out at night and especially likes to party by drinking tequila, the fun never stops. This girl likes to be naked above all because she thinks she was born that way for a reason. We can only agree.  Date posted: February 13, 2019 TheLord