Ultimate MILF goddess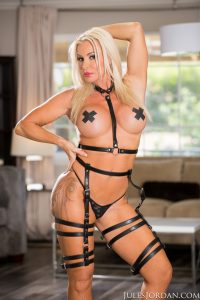 Robbin Bank is a master of her craft in every sense of the word, especially in front of the camera. She was born on February 15, 1975, in Camden Town, England and her real name is Zoe Gregory. This ultimate MILF goddess has blonde hair, green eyes and an extremely seductive smile. Her body has sexy and hot curves that just blew our minds. She has tits that have a size of 36DD and her ass is of average size. Robbin has various tattoos, which are a reflection of her personality. This beautiful woman spent almost all her life in front of the camera. Her mother put her in the mainstream modeling business when she was six. As a little girl, she was making mother-and-daughter shots, clothes modeling and similar things. She became famous to the general public as one of the glamour models, who were appearing topless on the third page of Britain's Sun, a daily newspaper. Not so long after, she started working game shows and she built her name. It turned out that investment to enlarge her tits was a crucial thing in her life. Somehow, she always had the idea in her head to move to America. Her career as a glamour model continued to take an upward trajectory. Hugh Hefner, the Playboy's owner, spotted her and offered her a contract. She became one of the Hefner's most favorite girls and moved into the Playboy Mansion where she lived for four years. Robbin got a son when she was 16 and as a single mother, she learned to fight for her son and herself. The transition from glamorous to pornographic modeling was actually her plan, which she realized only after Hugh passed away.
Porn Career
Robbin had several relationships. Something was missing in all of them, mostly related to sex, intimacy and pleasure. She always wanted to explore her sexuality more. As a Playboy model, Robbin met many important people from different spheres of society. She had an extremely honest and friendly relationship with some of them. One of those is a famous porn actor, Keiran Lee. He helped her to make the final decision and start a porn career. Robbin filmed her first porn scene ever with him, and her porn career officially started from that point. That happened in the summer of 2018 when Robbin was 43 years old. Another of her good friends, also the famous porn star, Lela Star, recommended Robbin to OC Modeling agency and no one rejects the former Playboy model. So far, Robbin filmed at least 10 scenes. She was appearing mostly in hardcore but some lesbian scenes too.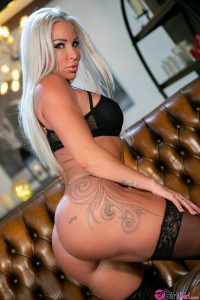 We are completely sure about a couple of following things: she is a top-notch entertainer, seductress and an upper-class performer. Her scenes are the reflection of her sexual maturity, especially when it comes to sex with women. Robbin filmed one scene with her good friend, Lela Star. She also made two scenes with Bridgette B, where two experienced MILFs shared all their sexual knowledge. Robbin made two scenes with her porn godfather Keiran Lee. When Robbin met Manuel Ferrara, she experienced a completely new level of her sexuality. Two of them filmed two scenes together. She also worked with Duncan Saint and the scene became viral on Clips4Sale. Generally, Robbin has awesome sexual skills that have been recognized by the producers of many famous porn studios she worked for: Brazzers Network, Jules Jordan Video, MILF VR and GirlGirl.com. Robbin has an Only Fans profile, where she shares her exclusive content with her greatest fans. She admitted that she finally lives the life she always wanted to live. She is also aware that her career will not last forever, and she has a backup plan. 
Backup Plan
Robbin wrote a book about her life in the Playboy Mansion, about her commitment to Hugh Hefner and how he changed her life. The book has not yet been published and she wants to publish it by herself. She also works as a personal trainer and fitness instructor. Robbin knows that everything is happening on social networks today, and she promotes her work on them. Date posted: April 26, 2021 TheLord