Next Door Sweetie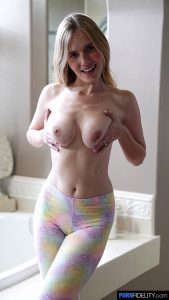 Rebel Rhyder is one of the freshest porn models in the industry, who was born on January 24, 1994, in Phoenix, Arizona. She has an intriguing cute face, dirty blonde hair and blue eyes full of life. She has almost ideal body proportions. Her tits are of average size; actually, they have a size of 34C. Her ass is stunningly hot and it will be the main theme in this biography. It is rare to see a porn star without tattoos and piercings, and Rebel is exactly one of those. She was growing up as an example of a good girl, who had the highest grades in school, went to church with her family and so on. Rebel lost her virginity with her first boyfriend when she was 18 and, after that, she abstained for almost four years. She finished college and got a degree as an electrical engineer. Rebel worked in the aerospace niche for two years. She met her present husband and got married. Since then, many things have changed for her in the sexual sense. 
Limitless Sex Freak
Rebel is a smart, intelligent and cheerful lady, whose life completely changed in a couple of months. From a woman who barely masturbated, she became an insatiable nymph. Her husband opened her eyes and showed her all the magic of sex. They made a list of things they wanted to try and started experimenting. Rebel enjoyed. She made a shoot just for fun and she liked it. Rebel started to work as a webcam girl and was getting suggestions that she should try porn. Rebel started her career in late 2019 when she was around 25 years old, and so far, she filmed at least 50 scenes. Her debut scene is a glory hole scene with twelve guys, and the best of all is that her husband watched that. Rebel continued making scenes – solo, lesbian, and her favorite – hardcore. Her scenes are especially intense, because of her sexual approach and unique sexual experience. She masturbates every day in her private life, and her favorite sex toy is Hitachi. During her career, she used plenty of different sex toys. She made a scene where a fucking machine fucked her ass while she pounded her pussy with a dildo. It is interesting to say that we hardly found Rebel in one on one scenes. She loves sex with as many people as possible. Rebel participated in a lesbian orgy scene with 12 girls. She worked with actresses such are Afina Kisser, Baby Sid, Blu Mere, Casey Calvert, Daizy Cooper, Indica Monroe, Jewelz Blu, Lydia Black, Maxine X, Twiggy Valentine, etc.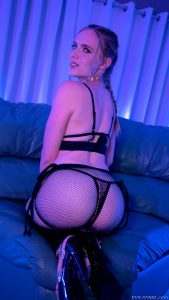 Rebel is submissive and she loves the feeling of helplessness. Being under man's control leads her to heaven. She likes extremely rough fucking and there is no cock too big for her. Rebel especially loves anal sex. You wouldn't believe what her ass is capable of. Maybe the best prof is a scene called 'Order of the Red Star'. The scene belongs to the gangbang category. It lasts for unbelievable three hours and it is filmed for Assylum studio. She also made interracial, DP, DAP, gaping and fisting scenes. Rebel likes to feel a hot load of cum in her ass. She is able to put a cock in her throat all the way down. Cum-swallowing is a delicious job for her. Rebel worked with many famous actors. Some of them are Alan Gwada, Alex Jett, Cameron Cox, David Strongwood, Jason Michaels, Joachim Kessef, Richard Mann, Rico Shades, Ryan Madison, Sam Cox, Wayne Wood, etc. Rebel spent a certain time in Europe working for Legal Porno studio. Many of her scenes are conceived, directed and published by herself, so you can see them on Clips4Sale and Many Vids. Her husband is her main camera-man and her right hand in this business. She worked for studios such as 5K Porn, Kelly Madison Networks, D&E Media Networks, Richard Mann Productions, MILF VR, Rad Media XXX, etc. 
Awards & More
Rebel achieved quite a great success in a short period of time. In 2020, at Spank Bank Awards, she was nominated in ten categories, and she won two of them. Those are Big Dick Adventurist of the Year and Customs/Clips Specialist of the Year. She was also a winner on the Spank Bank Technical Awards in the category Happiest When Her Holes Are Being Used. Rebel has a couple of hobbies. She plays a lot of video games and her favorite is the World of Warcraft. Another one is pretty unusual, especially for ladies. She has a forge workshop in her backyard and she is able to spend hours hammering a piece of hot iron. Rebel likes to listen to a bit of everything, but her favorites are still the Beatles. Her favorite food would be steak and potatoes. She currently creates her website and it will be available soon. Until then, you can follow her career over her Twitter profile.  Date posted: January 22, 2021 TheLord