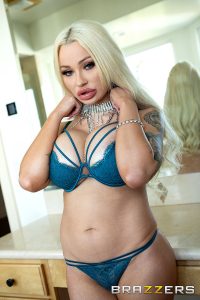 Appearance is always a matter of choice, and Portia Paris has her own that is quite unique. She was a redhead, black-haired, brunette, but somehow she loved herself the most as a blonde like she is today. This blue-eyed stunner has a nice face and full silicone lips. Her lips are just one of the endeavors she has made in the past few years. She is of average height and has a sexy body. Portia is famous for her giant tits, and unofficially, she has the biggest tits in Australia. Even when she was a little girl her striving was to be an entertainer, specifically a singer. Fascinated by the look of Pamela Anderson and Anna Nicole Smith, Portia made breast augmentation surgery when she was 17. She enhanced her tits from 34C to 34DD size. The enhancement made her satisfied but not for so long. She wanted bigger tits and she had a problem finding the doctor who would make her wish come true. Many doctors refused her demand because of possible health issues, but nothing could stop her striving. Finally, Portia did it in 2014 and since then, her tits have an impressive size of 39GG. Portia Paris was born on November 30, 1990, in Sydney, Australia. Among all her features, she has several tattoos: a flower on the inside of the right forearm, on the left shoulder, on the left bicep, and both ankles. Even before she has done the final surgery, she worked as a model. Pictures of this busty lady were on the front pages of famous Australian magazines. She also had several roles in TV series. Portia always loved acting and with all her assets, entering the adult industry came somehow naturally.
Naughty Barbie Doll
People who worked with Portia described her as polite, talented and down-to-earth. Some people see her appearance as a reflection of her inner need for attention. She has never paid attention to negative comments and has her own attitude towards her appearance. As long as her appearance makes people smiling and excited, she is happy and definitely worth every pain she has gone through. She still feels back-pains, but she claims that every art brings suffering. Armed with weapons of mass arousal and seduction, Portia stepped into the adult industry at the beginning of 2020 when she was around 29 years old. So far, she has made at least five professional scenes. Portia also has Only Fans profile where she posts self-created content, which mostly contains her solo scenes, nude photos and all naughty moments from her private life.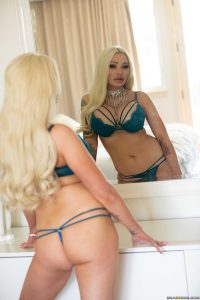 The chronology of her porn career says that she made her debut scene for Brazzers studio. The scene is titled 'Price to Pay' and she filmed it with the famous Keiran Lee. Portia made two more scenes for Brazzers Network. In May 2020, she filmed 'In-Depth Tour' with Mick Blue and in July 'The Naked Wife' with Scott Nails. Her scenes are lustful and filthy, especially the parts where she sucks cocks because of her full lips. She looks fabulous in all sex positions, but her favorite is reverse cowgirl. Portia also made two scenes for True Amateurs studio. Both scenes are pretty similar. She made them with AJ Luis and both were ended up in the same way, with facials. Portia made these scenes in the United States, and then she went back to Australia. As we found, she works as a lingerie and swimwear model.
Sarah Marie Summer
Sarah Marie Summer is also the artistic name that she used in a different branch of art; music. She is a singer and has four released singles, which we found on Deezer, Google Play and many other music platforms. Her music could be categorized as modern pop-dance music. She definitely has a nice voice and singing skills. Except for music, Portia has a few more passions such as traveling and partying. She admitted that after the last operation it took her a long time to become graceful again on the dance floors. Portia has an Instagram profile with almost 150K followers. She is also active on Twitter and Facebook where she has additional 70K followers.  Date posted: August 3, 2021 TheLord