Unique and Different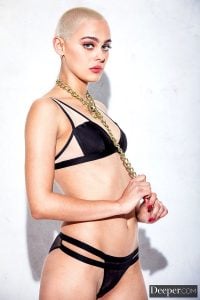 Paris Amour is one of the most talented newbies of the porn industry and is on our list of the 50 best new starlets. She refreshed the industry with her addictive cuteness and a unique appearance that clearly assert her self-confidence and independence. Her striking haircut, prominent eyebrows above green eyes and lovely face are breathtaking. She has a petite body with ideal proportions, which makes her a real sexy muse. Her tits have a size of 32B and her ass is small and hot. She has a small subtle piercing in her right nostril. Paris was born on February 11, 1995, in Scranton, Pennsylvania, where her mother still lives. Her father lives in Bronx, New York, and she was spending time in both places. She is a licensed and experienced makeup artist, hairdresser and barber. This is her first passion but not the only one. Paris was working as a dancer. She spent seven years stripping in her home state. One of the recruiters spotted her online and made her a proposal. She has been thinking for a while and considered that she would not be younger. Between now or never, she chose the first option. 
Femme Fatale
Paris is a curious and adventurous person by nature. She is also distinctly sexual and open-minded to everything. Porn has been an essential part of her life since she discovered it. Paris admitted that she was pretty conservative about her sexuality. The crucial moment in her life has happened when she was 17 and dated a girl who was a stripper too. The girl showed her a brand new world of passion between women.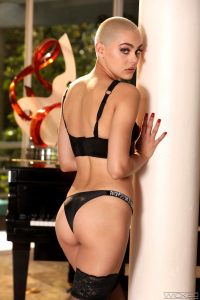 That act blew her mind and completely changed her. Paris entered the industry in the second half of 2019 when she was around 24 years old. She signed for Foxxx Modeling agency at first. Almost a year after, she signed for Hussie Models, the agency that represents her now. She sees the industry as a completely free place that allows her to explore her sexuality. So far, Paris has made at least 10 scenes. She filmed her debut scene for Net Video Girls studio in September 2019. It is a threesome scene where Paris and Adira Allure shared Donnie Rock's cock. One of her early works is a scene titled 'Ballooning Fuck' that she filmed with David Solomon for Digital Videovision studio. Paris filmed her debut lesbian scene in January 2020. 'Dating Dilemma' is the title of the scene filmed for Twistys Network. Paris and Dana Wolf starred in this lesbian classic scene and also showed impressive skills in satisfying each other.Considering that she is still pretty new in the industry, she made a solid success working for renowned studios. One of her best-selling scenes has the title 'Gold Star', which has been made by the idea of famous Kaydan Kross for the Deeper studio. It is a threesome scene where also appeared Catalina Ossa and Michael Vegas. She was on the cover of Axel Braun's acclaimed series 'Short Hair Don't Care 3', the release of Wicked Pictures studio. Paris and Tyler Nixon made a great contribution to this great release. She made a foot fetish scene with Eric John for Kick Ass Pictures. The audience had a chance to experience her completely different and in all her beauty in the VR scene 'Ultimate Fucking Champion' filmed for Wankz VR studio. She worked with Justin Magnum in Naughty America's scene. Paris comes out from her comfort zone slowly so we are expecting naughtier scenes from her.  Date posted: September 7, 2021 TheLord