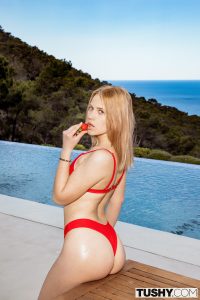 It's time for another tiny Russian anal princesses and this time we have Nikki Hill, a babe who submits to any huge cock you put in her face.
Nikki is a lovely young lady with nubile body who just wants to impress grown men with her tight ass and her blowjob skills.
When she wears her hair in two braided tails, she looks so adorable and she looks even hotter when someone grabs those tails and rides her from behind like a pony.
The hotness of this chick comes for the shyness she has in her eyes, which makes a good contrast with the way she sucks cock and takes it in the ass. But at first, she started with solo masturbation scenes. If you want to watch a skinny Russian teen masturbating perfectly, she has a series of scenes like that on Nubiles.net. But then she signed a contract with Legal Porno, where things changed in her career.If you know Legal Porno, you know they're all about dirty anal porn. And this tiny Russian got her ass ripped apart by the huge dicks of that network. She even did an Anal DP scene for Legal Porno, and the facials she got there are really worth checking out. But probably her best scene so far is the one she shot for Tushy. It's the scene that marked a change in her career. She dyed her hair blonde and moved to the US. And I'm going to give you one more scene as a reason to really check this young babe out.
Nikki Hill
has a perfect bukkake blow bang on Premium Bukkake, in which she got covered in 41 loads of cum, swallowing no less than 20 of them.
Now that she movies to the US, she is free to live her slutty fantasies on the sets of the biggest networks.
Nikki Hill started using the alias Easy Di
, but who knows if it's going to catch. If all of a sudden you won't find new movies of hers, just search for her other porn name.
Date posted: December 1, 2019