The Freshest Starlet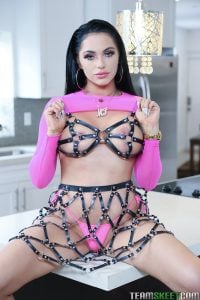 MJ Fresh is one of the freshest faces in the porn industry, so let's get to know her. She was born on September 9, 2000, in Myrtle Beach, South Carolina. Her real name is Madysun Jaques. She has a seducing appearance, attitude and a look at life. MJ has a pretty face, blue eyes, and a smile that takes a breath away. This black-haired girl has a stunning body from head to toe, especially considering that she gave birth to a child. She has enhanced tits that have a size of 34DD. Her gorgeous booty is of average size and she knows how to shake it in the rhythm of dance music. She has a few tattoos on her body; on the right forearm and inside of the right forearm. She also has a sideway script along the spine. A piercing decorates her belly-button. MJ was a good student and an a strong character. She hates it when people suggest to her what she should do or not. MJ lost her virginity in a car. She was working as an exotic dancer for a year. She met the right person by the coincidence and, after a while, she stepped on the porn path. 
An Extraordinary Talent
MJ has always been open with her sexuality and many other things in life. She adores sex and she thinks it is the perfect way to have some fun. MJ started her porn career in the first half of 2020 when she was around 20 years old. She is represented by Team Brain 2016 and AMA Modeling Agencies. So far, she filmed at least 6 scenes, and all of those are hardcore and she has done them well. She is a blend of vast experience and superior talent. MJ said that she doesn't know the exact number of guys she fucked, but that there were many. She is a bit less experienced with girls. She says that she doesn't like the attention from guys. When a guy ignores her, she gets wet.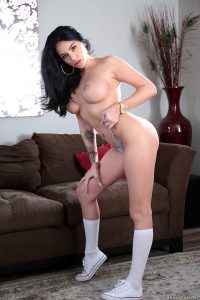 MJ knows to be both submissive and dominant. She likes hair pulling and light choking, but she doesn't allow anyone to hurt her. Her favorite sex position is a missionary with both legs over her head. She also likes riding positions, especially when she takes control. MJ likes swallowing and facials. She filmed a creampie scene with the famous J-Mac. The size of a cock never matters to her, but she will never refuse a hard one. She worked with male talents such are: Derrick Ferrari, Duncan Saint, Johnny The Kid, Peter Green, and Tony Rubino. Her scenes are realized by studios such as Team Skeet, Brazzers Network, Property Sex, Bang Bros Network, and My Life in Miami. MJ turned attracted popularity with her awesome acting, performing and unique beauty. She has real chances to become a super-star. 
Web-Star
MJ is an influencer, streamer and YouTuber. If she doesn't entertain people with hot porn scenes, she makes them laugh. She has a YouTube channel where she posts funny videos. She is active on social media. TikTok is her favorite platform, where she has over 300K followers and over 5 million likes. She looks at life like on an adventure and likes to do fun and weird stuff. MJ likes to listen to all kinds of music, but her favorites are hip-hop, rap, and R&B. She admitted that she likes unhealthy food but she doesn't have any problem to quit with it at any time. Date posted: December 3, 2020 TheLord