Sexy Little Coquette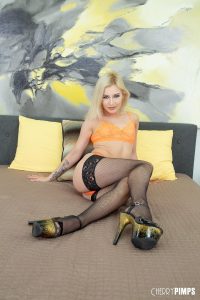 Minxx Marley is a new irresistible treat, full of cuteness but filthiness also. Her sweet face, big blue eyes and lovely smile leave no one indifferent. This blonde has a slender body, or as we like to call such girls, she is a real pocket babe. Her tits are small and have a size of 32A, while her small is firm and nicely shaped. She has a tattoo of a flower on the inside of her right forearm, and 'trouble' on her left elbow. Her navel is pierced. Minxx was born on March 8, 1998, in The West Valley, a region within the Phoenix metropolitan area, Arizona. She is a great patriot whose family is the eighth generation born in Arizona. During high school, she was a typical girl-next-door who always loved the attention. She was interested in theater, but also in cheerleading. Her team even won the national championship. She always tried to look sexy, so her mother scolded her because of that. Minxx realized she was bisexual yet in eighth grade and her first kiss was with a girl. She was exploring her sexuality on both sides. She is quite experienced in sex, although girls were hard to approach, while it was easy to pick up a guy. Minxx has always been interested in the porn industry. She was reading porn star blogs, watching movies about the industry and carried out detailed research. Even if she finished an esthetician school and was a licensed beautician, got married, her life was an empty shell. She started her OnlyFans, and after a while, she took a break when she got married. Her marriage was on glass legs mostly because of her possessive husband. Minxx decided to end the agony and took her life back into her own hands. 
Real Seductress
Minxx is an open-minded and sexually liberated kind of person. She has a sweet and nice personality. Those who worked with her say that she is sexually unique and talented. Minxx started her porn career in February of 2021 when she was still 22 years old. She is represented by Foxxx Modeling agency, and so far, she has made at least 22 scenes. Her first scene is a solo action that she made for ALS Scan studio. She filmed several scenes for the studio, and two of them are lesbian actions. Those are 'Pup Play' and 'Splash Radius' that she made with Freya Von Doom. She made several photoshoots for ATKingdom.com. Her first hardcore scene is the release of Shoplyfter.com, the Team Skeet's web channel. Rusty Nails is the first actor she worked with. Minxx is into BDSM and she likes rough sex. She is also into older guys. Gerald Saunders is the oldest guy she worked with so far. They made four scenes for LasVegasAmateurs.com. In May, Minxx filmed a scene with Tony Profane for Bratty Sis studio. Her favorite sex position is doggy style. She especially likes threesomes. Her first threesome action is Team Skeet's release titled 'Something To Brag About' that she made with Ainsley Adams and Billy Boston. She made several more scenes for Team Skeet. Those are 'Hole Goal' a foursome sex scene that she made with Celestina Blooms, Gia DiBella and Cody Carter, 'Stepsisters' Teenie Bikinis' a group sex act where the rest of the cast were Haley Spades, Billy Boston and Robby Echo.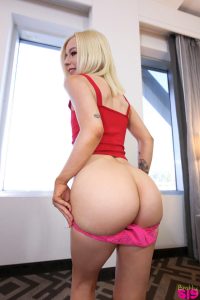 As a great fan of creampies, she made 'Creamy Cosplay' with Nicky Rebel. Minxx filmed her first interracial sex scene with Will Tile that has been titled 'Love Of Country' for YummyGirl.com. She was a great fan of porn movies before she entered the industry. She was imagining herself in a gangbang action. The dream came true at the beginning of July when she filmed 'Back Alley Gangbang' a new virtual reality concept from SexLikeReal.com. The three guys from the crew fucked her harder then ever, and Minxx was bursting with pleasure. She debuted for Nubiles-Porn studio at the end of August in the scene 'I Took My Stepsister On a Picnic' that she filmed with Ricky Spanish. Tyler Nixon was her co-star in her next scene 'Step Sis Is Breeding Material'. One of her best-selling scenes is Lethal Hardcore's release 'Cum In My Cunt 6' than she made with Jerry. Minxx took steps to prepare her tiny ass for action. That means we can expect her in anal action in a short period of time. She also has so many fantasies to live out in front of the camera.
Private Life
Minxx likes to travel and explore the great outdoors. Finding hot springs is her favorite thing. She also loves camping and hiking. She is a big gamer, and she is addicted to Pokeman. Her favorite bands are Grateful Dead and Fleetwood Mac. She loves art and makes sketches in her free time. Minxx expresses the artistic side of her personality on her OnlyFans. She offers an exclusive content that include solo, B/G and threesome scenes. Her videos on Pornhub have been viewed over 1,4 million times. Working on her social media profiles is her daily routine.  Date posted: April 23, 2022 TheLord