Tiny Bunny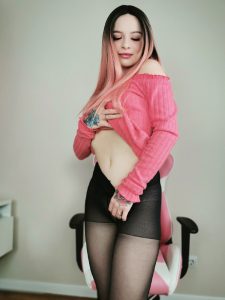 Marcelin Abadir aka Boolchita was born on July 18, 1996, in Russia. She is a cutie with an innocent face and her big brown eyes will charm you immediately. She has long hair that is sometimes straight or twisted into tiny braids. Her hair color depends on her mood; we've seen her brown, pink, blonde and green. She has a petite body and her tits have a size of 34B. Her ass is small, firm and simply irresistible. She has three tattoos: a rose with leaves on the upper side of her hand, a design on the left forearm and a branch with flowers above the right breast. It is unknown when she moved to America, but it is quite sure that she lived in Orlando, Florida where she finished high school. In 2019, she started studying at the University of Central Florida but not for long. In the middle of the same year, she moved to New York, where she still lives. 
Porn Lover
"I love porn and I do what I love" – these are Marcelin's words that should be quite enough to explain the basic motive for starting her porn career. Is it not a success in life when you're doing what you love while making enough money for a decent life? Marcelin is an amateur porn actress who was never ashamed to show her sexual tendencies. She started her career in the middle of 2019, when she was around 23 years old. So far, she made dozens of amateur shots, which she created by herself, with a little help of her boyfriend. Marcelin is making solo and, most-often, hardcore scenes, besides a couple of lesbian videos. She has a big acting talent that allows her to show us her sexual essence in a credible way. In her solo scenes, she sometimes uses her fingers only, but she mostly has a help of sex toys. She is using: massagers, vibrators, dildos, double ended and some really huge ones, Hitachi, butt-plugs and what not. Except for vaginal play, she also likes anal games. She has a scene where she put a whole fist in her back-door hole.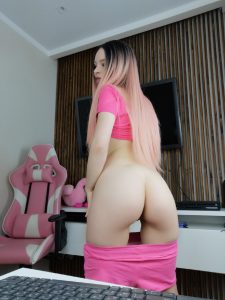 Sometimes, she uses two different sex toys at the same time. Her orgasms are long and strong. Marceline seems like a creative girl who has an inexhaustible source of ideas. It goes without saying that most of her scenes are, in fact, her personal fantasies. She made a couple of lesbian scenes, which are essentially similar to her solo scenes. The only big difference is that she has a woman's body to plays with. The most of girls she worked with are also amateur actresses, and the only girl's name that we found is Purple Bitch. Marcelin makes hardcore scenes with her boyfriend exclusively. With him, she is submissive and always fascinated with a size of her boyfriend's cock. Her clitoris begins to swell just by thinking of his cock. She especially loves delicate anal sex. Her favorite sex positions are missionary and doggy style. Cock sucking is her delicacy, and deep-throating is another of her awesome skills. Marcelin still doesn't think of starting a professional porn career, in terms of studio contracts. 
Sexy Gamer
Marceline recently made her official website where you can find all her scenes. She also has a blog where she writes erotic stories about her fantasies. Pornhub, ManyVids.com and OnlyFans.com are other places where you can watch her scenes. You can also subscribe to her Fan Centro profile (www.fancentro.com/marcelinabadir). Marcelin is a passionate lover of books, comics, cartoons and movies. She is also a gamer and her favorite game is the famous Mortal Combat. Date posted: October 5, 2020 TheLord