Blue-Eyed Cherry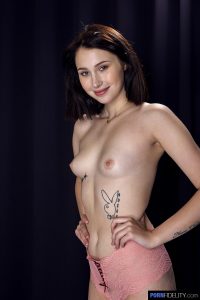 Malory Malibu was born on June 7, 2001, in Sacramento, California. This cute girl said that her natural hair-color is dirty-blonde, but we're used to seeing her as a brunette. She has blue eyes and a smile that instantly shows how lustful she is. With an attractive appearance and an awesomely shaped body, Malory seems like a real seductress. She is of average height and has a slim body with gorgeous tits, which have a size of 32B. Her small ass is pretty firm and simply irresistible. She has several tattoos: a barbed wire under the right breast, a Playboy bunny on the left side of the abdomen, a script under the left forearm, and another on the upper left thigh. She graduated high school a couple of years earlier from her generation and after that, she joined the army. Malory spent a bit more than a year in the army and when she got out of it, she was at the crossroads of her life. She was still a virgin and her confidence wasn't high. 
Like A Virgin
Malory's life story is pretty strange and unusual. She said that she was always a great fan of porn as her sexual life was once equal to zero. She never touched herself, never had sex, even if she desperately wanted it. In high school, Malory looked like a weird Goth girl with strange behavior and a silly outfit. Nobody wanted to have sex with such a weird girl although, under her outside, she hid a girl with an attractive look. She decided to join the porn industry and at first, she tried to find an entrance on Sexy jobs. An agent spotted her and after a week, she signed for Matrix Models Agency. She entered the industry at the end of 2019 when she was 18 and still a virgin. So far, she made at least 12 scenes. Through those scenes, you can see all her sexual experiences, including the loss of her virginity. This special moment in her life was filmed for the Exploited College Girls studio. Jake Adams was a lucky guy who took her virginity and led her into the world of adults.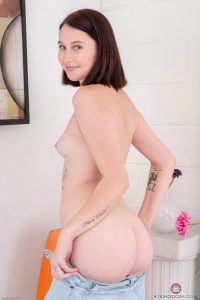 Malory filmed a couple of solo scenes and the rest is hardcore. Her first masturbation ever is also filmed. She said that, since she lost her virginity, she masturbates at least twice a day. She mostly uses her fingers, but she showed that she learned to use sex toys too. Her second scene ever is a threesome, which she made with Jake Adams and Audrey Hempburne. Malory also made an interracial scene with Dillon Cox. She also lost her anal virginity in front of the camera. In that scene, she was double penetrated and creampied. Her favorite sex position is doggy style, which gives her a new level of pleasure. Malory likes when guys cum on her stomach. She also likes facials and to call her a brat. She isn't a fan of huge cocks and the girth matters more to her than the actual size. She worked with porn actors such are: Codey Steele, David Strongwood,  Gio, Ray Dark, Ryan Madison, Sam Cox, etc. This brand new porn gem worked for studios such as Amateur Allure, Black Ambush, Kelly Madison Networks, D&E Media Networks, 5K Porn, Am Kingdom, etc. There are a lot of sex things that she still didn't try, but a BBC gangbang scene is on her list of priorities. The best of all is that she records almost every new experience in sex, which is quite interesting to watch. 
Behind the Camera
Malory likes hiking, watching anime, and playing video games. Her favorite games are Minecraft and Call of Duty. She likes to listen to emo trap music, and her favorites are Lil Peep and  $uicudeboy$. She likes Quentin Tarantino's movies. When she talks about food, you'll hear her saying that she can't live without barbeque ribs and pizza. She also likes to cook, especially pasta and some ordinary stuff. Like many other girls from the world of porn, Malory also makes content for her OnlyFans profile, where you can see exclusive content from her personal life. Date posted: November 18, 2020 TheLord