Ginger Cutie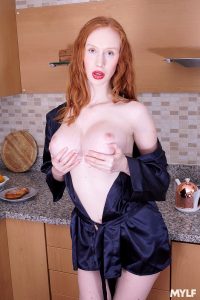 Lenina Crowne is a new British porn-star in the porn world. She was born on September 18, 1995, in the northwest part of London called Hillingdon. This natural-born redhead girl with hypnotizing blue eyes and full lips is really cute and is of a kind that attracts your attention at the very first sight. She is tall, has a fit body and pale skin. Her tits are enhanced and now they have an impressive size of 34DD. Her ass is small but firm and already shaking the porn industry. This girl chose the stage name by the character from the famous novel Brave New World by Aldous Huxley. Lenina was interested in doing porn ever since she discovered sex. She is a born exhibitionist and a smart one. She first started to work as a webcam model when she was 19. The world of webcamming fascinated her from the beginning, but it was just a preparing period for the path that followed.  
British Gem
Lenina had done nothing in her life without planning and thinking carefully beforehand. She has made an extensive research of the British porn industry and was getting mostly indecent offers that have not deterred her from the final goal. Her determination to join the porn industry has never been questioned but she just wanted the safe ground under her feet. Lenina started her porn career in the beginning of 2019, when she was around 24 years old. Her first shots have been filmed for the www.sugarcookie.xxx website and amateur porn studio. She has been sparkling in all her sexual brightness and showed how talented and skilled she actually is. In the middle of 2019, she filmed her debut professional shot and so far, she appeared in at least in 10 scenes. All her scenes are hardcore, while her solo scenes are exclusively made for her OnlyFans and ManyVids profiles. She says she masturbates a couple of times a day and she uses different sex toys. Her favorites are vibrators. Lenina said that she has not had too much luck with women in her private life.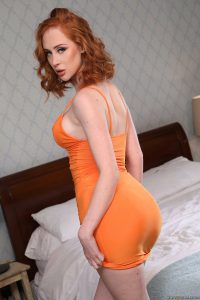 Lesbian scenes are on her to-do list and she would love to explore that part of her sexuality more. When it comes to hardcore, Lenina is a real beast in the bed. Taboo sex scenes, which she always loved watching, have had a huge impact on her. She is in a relationship with Dick Dixxon, a porn actor and a producer. They are deeply in love at the moment and have made dozens of hardcore scenes together. She also worked with other famous actors such are: Danny D, Erik Everhard, Ian Tate, Joel Tomas, John Bishop, Kristof Cale, Ricky Rascal etc. Lenina mostly worked for European porn studios: VR Cosplay X, Czech VR, Let's Doe It, Fakehub, Sexyhub etc. She made an impact on the American porn market with scenes that have been filmed for Brazzers Network and Reality Kings. Lenina has many plans for the future and one of those is a gang bang scene. Behind all her plans is just one goal: to attract the attention of as many people as possible. She is truly grateful to all her fans for loving her for who she really is. 
Book Worm
Reading and listening to music is nothing unusual for many of us, but how many people are studying the beginnings of imperialism and the history of United States out of college? Lenina is surely one of the rare ones. She likes to listen to classical music. She is a great admirer of Tchaikovsky and his works. She nurtures a healthy lifestyle with a vegan diet. Cooking is one of her passions. If you have wondered how she keeps her body so fit, the gym is also one of the answers. She is always on the road between London, Budapest and Prague. She adores the Mediterranean coast, especially the Italian part.  Date posted: August 30, 2020 TheLord