Lana Harding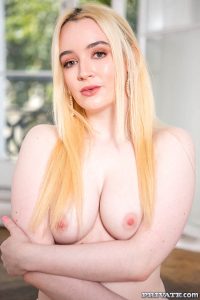 Lana Harding is a British porn star, born on May 15, 1999. She lives in Newcastle upon Tyne and has a sexy Yorkshire accent,.
Lana Harding – Bio, Life,
This young green-eyed woman has long blonde hair and a smile that is just one of her many seducing tools. Her body is extremely hot with feminine curves. The size of her tits is 32F. Her firm ass is super-sexy and of average size. She has tattoos on both lower legs. Lana has her right nipple pierced.
She is a student who speaks English, French, and Japanese. She embarked in the adult industry right after she turned 18. First, she was working as a stripper and an erotic model for two years. As a 20-year-old, she raised her work to a higher level and turned pro. 
Horny Exhibitionist
Lana is a natural-born exhibitionist who didn't want to resist her urges. On the contrary, she accepted them as assets and utterly enjoys them. Lana is an intelligent and smart woman with a great sense of humor. Her self-confidence and commitment are for admiring. Before she started her porn career, she was appearing in the
prestigious British magazines, Escort and Club International. Her talent simply shines no matter what she does. Lana made her debut scene in the middle of 2019 and so far, she made at least 6 scenes. If we consider that she made a dozen amateur scenes, that number is even bigger. Performing as a stripper,
she achieved great skills that she uses on sets. Lana is sexually open-minded and it seems that she is a master of her craft. You can see her solo scenes mostly on her Only Fans profile, where she posted over 700 videos.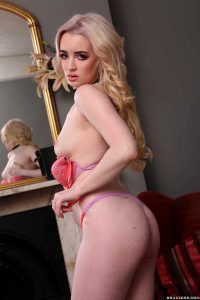 Lana has a large collection of sex toys. She especially likes to use the big ones and the ones that allow her to fill both of her holes at the same time. Except for sex toys,
sometimes she uses random objects. Lana's supreme pleasure is giving blowjobs. She said that cum is wasted if it stays uneaten. Her favorite sex position is cowgirl.
She loves creampies and facials. Lana worked with actresses such are Candice Demellza, Luci Reign, and Tindra Frost.
The male talents she worked with are Charlie Johnson, Danny D, Ian Tate, Justin Round, etc. She worked for studios and websites such as Cum Perfection, Fake Hub, Fake Taxi, CFNMTV.com, WankItNow.com, DownBlouseJerk.com, UpSkirtJerk.com, BoppingBabes.com, Swangers, etc. One of her latest scenes has been filmed for the famous Brazzers Network. Many famous porn workers have described her as a brilliant model with great work ethics, great skills, and a bright future in the porn industry.  
Social Networks
Lana spends a lot of free time on social networks, posting, informing the audience, and supporting other porn workers. She is also busy with creating content for her profiles on Only Fans, Many Vids, Admire Me and I Want Clips,