Glitter Grunge Barbie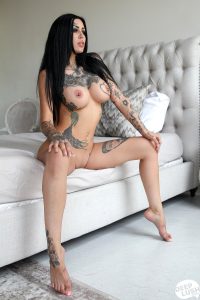 Janey Doe was born on August 29, 1990, in a small town called Oceanside, near San Diego. She has a beautiful face, long black hair, and a pair of hypnotizing brown eyes. Maybe the most beautiful things on her face are her juicy lips and her captivating smile. She has a body that is hot and in superb shape. Her tits have a size of 32DDD, and she enhanced them while she was a stripper and a couple of days before she met her husband. But her final goal is to make them even bigger. Her ass is firm and has an average size. She says she was always trying to look like a porn star, attractive and hot. Her body is covered with around 60 tattoos. She has piercings in nostrils, lips, nipples, tongue and navel. She lost her virginity with an older boy from her school and then fell in love with the art of lovemaking. She entered the tattooed modeling world when she was 18, and after a while, she realized that she wants something more intensive. Janey started her career as a stripper and pole dancer. In the meantime, she got married and became a mother. She says that divorce made a mess in her life, but as a single mother, she continued to search her place under the sun.
Porn Era
In one of her interviews, Janey said that the crucial moment in her life was the performance of famous Jesse Jane in the strip club. Years after that she figured out that it is never too late to be what you really want. She started as an amateur webcam model and was working for ManyVids, creating her own content. After a month, people from the porn world started to offer her different contracts. She went to AVN and met many porn workers from the porn community. After a while, she made her first scene for Burning Angel studio. Her career has started in 2019 when she was around 29 years old. Maybe the best way to describe how strong will she had, is the fact that she enhanced her tits in the divorcing period, because she wanted to look attractive and prepared for her new way of life. For the first 6 months of her career she was a member of OC Modeling Agency. After a couple of filmed scenes, they agreed that the best way is to make a split. She became an independent model like she is today. So far, she made at least 14 scenes. Most of them are hardcore and one is lesbian.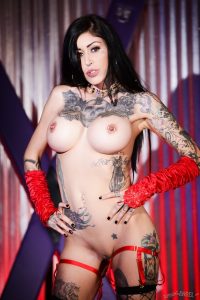 Janey is an experienced bisexual, attracted by men and women. She made her only lesbian scene with Jessie Lee. She has two scenes with Valentina Nappi and those are threesome scenes. Janey is submissive and really loves facials, but she made a couple of creampie scenes too. Her blowjobs are always extensive and tidy. She likes cocks of average size. In her hardcore scenes, you can see famous porn actors, such are: Brad Newman, Chad Alva, Chris Rail, Glenn King, Mark White, Owen Gray, Robby Echo, Seth Gamble, Tommy Pistol etc. She worked for studios such as: Spizoo, Wicked Pictures, Deep Lush, Raw Attack, Mean Bitch Production, Cherry Pimps etc. The content that she makes by herself are mostly solo scenes. She likes to use all sex toys. In some of them, she is playing with her butthole using butt-plugs and small sex toys. She prepares her ass for anal games. She made her last three tattoos in front of the camera making scenes for Alt Erotic studio. In them, she tattooed her pussy and both of her tits.
Punk-Rock Vegan
Janey grew up listening to underground hip-hop, rock and punk music. She still loves to listen to music from her youth. She is a fan of horror and macabre movies. She is a vegetarian for more than a decade, and last three years she is a vegan who likes to cook her meals. Smoking weed is her way of life. She has Twitter and three Instagram profiles with a pretty large fan-base on them. Date posted: June 20, 2020 TheLord