An Exotic Beauty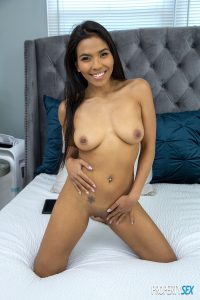 Jada Kai is a perfect example of how life can be unpredictable and what tomorrow can bring. At the beginning of this interesting story, we will head back to August 16, 1990, when Jada was born under the name Melissa Carmen Bulanhagui. She was born in Philadelphia, Pennsylvania and her origin is from the Philippines. This exotic beauty has dark brown eyes, long straight hair and a gorgeous smile that makes cute dimples on her cheeks. She may be called shorty, but her body is simply a perfection. Her tits are sized 32D. Her ass is firm and wonderfully curved, and many of us would love to have a picture of her perfect ass on the bedroom wall. She has a snowflake tattooed on her groin. Her navel and septum are pierced. Jada grew up in a strict and Catholic household and she was always a good kid. Her parents insisted on sports and she spent years on ice as a figure skater. She was successful and even skated for both the USA and Philippines national teams. Except for the US, she was also living in the Philippines and Thailand where she was in the leading positions and worked as a skating coach. After she ended up with her sports career, she lived in Colorado Springs where she worked as a bartender and in a shop. Desperate and dissatisfied, she was trying to find a way out. The best friend of hers often worked in California and she once went with him. As we know, California is famous as a land of opportunities, especially for girls like her. 
Porn World
Jada has the features of a passionate, warm-hearted, optimistic and fair person. She is deeply committed to whatever she does. Sport and discipline have shaped both her body and her personality and that is why she is persistent and diligent. Her sexual life wasn't so rich before porn but she was always free-spirited and curious. She lost her virginity at the age of 21 as a college student. It happened at the party in the hot tub in front of everyone present. That was sort of her first live performance. Jada started her porn career in 2017 as a webcam model when she was 27 years old. From the very beginning, she had great support from her best friend who is also a porn actor. His name is Jackie Knight. She made dozens of videos, sexy clips and live cam shows. By watching her scenes, we concluded that she is creative and talented. In 2019, she started filming scenes for porn studios. Now, she is one of Spiegler's models. Jada was appearing in solo, lesbian and hardcore scenes. She mostly likes to use her hands when she masturbates, but the sex toys aren't strange to her.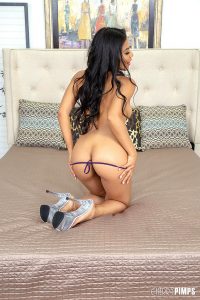 It is hard to define her lesbian sex scenes, but the main impression is that they are passionate, lustful and extremely hot. She worked with actresses such are Ginger Banks, Shelby Paris and Zhaddie Grey. Jada also made a couple of threesome and foursome sex scenes with Brenna Sparks, Ember Snow, Kamryn Jayde and Lulu Chu. Jackie Knight is the best friend of hers and also Jada's favorite sex partner. They have made dozens of scenes together. Her favorite sex position is doggy style. She is quite flexible and there is no impossible sex position for her. Jada worked with famous porn actors such are: Bobby Beefcakes, Brad Knight, Brother Love, Glenn King, Johnny Castle, Quinton James, Tommy Wood, etc. Her professional scenes have been realized by studios such as Team Skeet, Little Dragon Pictures, True Amateurs, Mom POV, Kick Ass Pictures, Mean Bitch Productions, ManyVids, etc. Jada has many plans and goals for the future because she enjoys her job. 
Simple Life
Jada says she leads a simple life in private. She has a degree from the University of Delaware. She usually spends a couple of hours in a day preparing new materials and chatting with her fans on social networks. She is so grateful for all the feedback that she is getting from her fans, whether it's praise or criticism. Jada has over 35K followers on Twitter, and more than 75K people following her Instagram account. She loves feeding birds, going to the beaches and gyms. She is into Yoga and able to repeat planks, squats, lunges, crunches and other exercises dozens of times. Jada is a big coffee fanatic and she smokes weed.  When it comes to awards, her greatest success in the porn industry so far is a nomination on Pornhub awards for the best webcam model.  Date posted: January 19, 2021 TheLord