Intriguing Emelie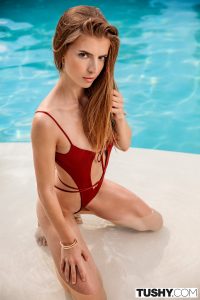 Emelie seems like an ordinary girl who is an actress and webcam model, but she is much more than that. In general, she is a beautiful girl, who has light-brown long hair, brown eyes and a charming smile. She is of average height and has a tight body. Her tits have a nice shape and a size of 32B. Her small ass is simply fascinating. She has a lily flower tattoo on the inside of the left forearm. Emelie was born July 31, 1997, in a small Mediterranean coastal town Carry-le-Roue near Marseille, France. Her real name is Zoé Knospe. She originates from a creative and artistic family. Emelie's parents had to move to Stuttgart, Germany because of their jobs when she was a year old. After she graduated from high school, she went to England and spent a year perfecting the English language. Now, Emelie is studying Applied Sciences at Stuttgart University. She was always a hard-working girl who financed her studies as a trade fair and congress hostess in Stuttgart and Paris. Emelie discovered pornography at a pretty young age and soon after, she discovered Erotic Art and Porn Art. She was especially interested in the work of artists such as Gregory Dark, Andrew Blake, and the model Aria Giovanni. The work of these people is still an inexhaustible source of inspiration for her. Intrigued by pornography as an art, her destiny had a perfect plan for how to drag her into the industry. Namely, one of her girlfriends from the university asked her for a little help. The girl wanted to make a clip and Emelie held a phone and recorded the girl having fun. Emelie still believes it was the crucial moment that took her to the porn industry.  
Absolute Artist
Emelie is a girl with broad understandings and even broader views of the world. Her perception is wide open and her thoughts are completely clear. Pornography is recognized as a form of art and there are over 40 different categories in it. Emelie also has her own micro-world in it. She made her first step towards the porn career in the middle of 2019 when she was around 22 years old. X Hamster, Pornhub and my Dirty Hobby were the first online platforms where she posted her videos and pictures. She was fascinated by the response and reaction of the audience. Emelie killed two birds with one stone: She found a new source of income and a new hobby through which she would express her sexual and artistic aspirations at the same time. Her works encompass almost all forms of pornography but in her specific way. There are solo, lesbian and hardcore scenes. She is still in the discovery phase and she wants to try everything to find out in which direction her career will go. Emelie is attracted to extraordinary things, especially in the fields of BDSM and SM. Her presence on online platforms and social networks made her well known.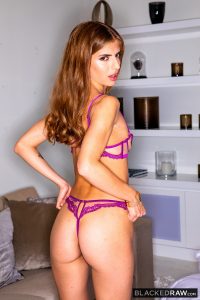 In the middle of 2020, she got an offer from the Vixen Media Group to make several scenes. Emelie has already respected the work of Greg Lansky and his associates. She accepted the offer because it somehow coincided with her artistic aspirations. Today, Emelie is represented by the Jul Models agency. So far, she has made at least 8 scenes. She debuted with the scene called 'Being Competitive' that has been filmed for Vixen studio. It is an anal scene, and Christian Clay was her partner. Eveline continued to work for Vixen Media Group and scenes for Tushy, Blacked and Blacked Raw have followed. She made those scenes with Freddy Gong, Jesus Reyes and Christian Clay again. Emelie also made three lesbian scenes. The scene called 'Wet and Wild' has been filmed for Viv Thomas studio, and Emelie made it with Leanne Lace. Let's Doe It studio hired Emelie for the scene 'Lesbian Pool Party', which she filmed with Carolina Abril. Emelie also made a scene with famous super-star Little Caprice. It is a private casting through which passions were shared and skills competed. Considering everything Emily has shown so far and according to the set-card on her website, the conclusion is simple: she knows no boundaries.  
Private Life
Emelie's biggest challenge at the moment is to manage two different lives, as a model and as a student. She will not give up on either because she loves her life. Emelie goes to the gym a couple of times a week, but she runs every single day. She keeps her body healthy and enough strong for the physical challenges that come every day. She likes spending her free time with her friends making mini-tours through Stuttgart's museums and galleries. Emelie also likes to visit her hometown in France. England is always on her map and the place she gladly visits. Emelie is a sociable person and she would rather mingle with people and friends than lay on the beach. Media Result France declared her the Most Interesting Person of the Year 2020 in the Art & Erotic category. Emelie has over 22K followers on Twitter and Instagram. Date posted: July 17, 2021 TheLord