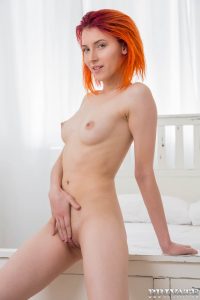 This cute redhead babe and she got her name because of that fire hair.
Elin Flame's haircut and color reminds me a bit of Milla Jovovich in her Leeloo role from the movie The Fifth Element
. If you had a crush on that redhead, it's time to enjoy a younger lookalike. Elin Flame is a gorgeous young babe from Estonia. Although she joined the industry at 23 years old in 2019, she still looked so young that she got featured in lots of glamour teen porn. She is absolutely beautiful. Her body is perfect, with perly natural titties, nice little pussy, skinny long legs and a tight butt that she is willing to open up for dicks in front of the camera. She also has pale skin and sometimes she wears glasses in her porn scenes.
This cute skinny babe started out in the porn world with some masturbation videos that she shot for Nubiles.net. In these videos you can enjoy the angelic beauty of her body. But she also has a dirty side.
You can watch Elin Flame get nasty in the movie she has done for Girls Rimming, a site dedicated to cute girls licking men's asses in glamour porn
. And then you can watch her in some anal and creampie sex scenes on Private and Teen Mega World.
Elin Flame is a great model for the glamour porn of today. Her beauty is so perfect for the camera and she also has good sex skills. She will get bigger in this industry, so you should add her to your list of naughty redheads that need to be followed.
Date posted: December 29, 2019