Gorgeous Latina Goddess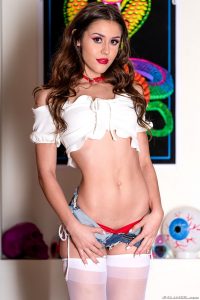 Catalina Ossa is a cute Columbian girl, who grew up in Phoenix, Arizona. We couldn't find the exact date of her birth, but we've found out that she was born sometimes in 2001. She is a long-haired brunette with brown eyes and a charming smile. She has a slim body that is super-fit and everyone simply have to adore it. Her tits are small with a size of 32B, and her ass is firm and sexy. She pierced her clit for the eighteenth birthday. Catalina lost her virginity with a guy who has a huge dick, at a friend's house. She is curious by nature and has always been open sexually.  After she finished school, she made the decision to try to get the taste of the adult entertainment industry and even told her parents about it. They just wished her luck and told her to take care of herself. She has a boyfriend who likes to watch her on the screen and he also supports her. Bravo!
Mega Hottie
Catalina maybe looks like a naïve and innocent girl but she is so much more. She is smart and brave girl who is firstly honest with herself. She has heard so many times that she could be a great model and she fits the porn star style perfectly. Catalina wanted to skip ordinary jobs and to make lives better for herself and her family. In addition to the financial benefits, she saw this industry as the perfect opportunity to explore her sexuality and get to know herself for who she really is. She started her career in the second half of 2019. She was 18 and quite mentally mature then. From the beginning of her career, she was a model of famous Hussie Models Agency. So far, Catalina appeared at least in 8 scenes. She filmed one solo scene while the others are hardcore. She discovered masturbation when she was pretty young. Now, she usually masturbates twice a day in her private life. Catalina likes to use her fingers, but she has also met the magic of sex toys. When she started to watch porn, she found herself in gang-bang and BDSM scenes. She likes rough sex and things like choking, hair pulling, slapping and spanking excite her.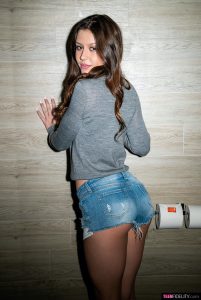 Her nipples are not too sensitive but she likes to bite and pinch them. She is submissive with men, but she is more dominant with girls. Her favorite sex position is doggy style because the partner can be in control and she really enjoys it. When it comes to sucking dicks, she is super-skilled and it seems it is her real passion. Her blowjobs are hot and long and she likes to swallow. Her favorite spot for cum is in her pussy. She loves the feeling of cock pulsing and filling up her wet and welcoming pussy. That feeling makes her orgasm much stronger and longer. Catalina worked with famous porn actors such are: Bobby Beefcakes, Bryan Gozzling, Chad White, Jake Adams, Kyle Mason and Ryan Madison. She appeared in scenes that are filmed for studios: Evil Angel, Casting Couch X, Exploited College Girls, FTV Girls, 5K Porn, Kelly Madison Networks, Swallow Salon, Nubiles Porn Network and Hookup Hotshot. Catalina is a great performer from many points of view. She has the looks, the style and many skills that are necessary for successful career of a porn star. 
Behind the Camera
Catalina likes her to spend her spare time outdoors with her pups. Working out at the gym keeps her body irresistible and fit. She likes to listen to all genres of music, but classic rock is still her favorite one. She gets crazy when someone mentions Italian food. Pastas are her favorite. Like many other porn stars, Catalina also has OnlyFans profile where you can see her self-created content and private videos. Date posted: August 22, 2020 TheLord