Angel-Faced Beauty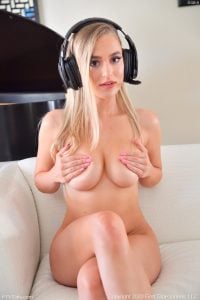 'Let us be grateful to people who make us happy, they are the charming gardeners who make our souls blossom'. Behind these words stands one of the fastest rising stars of the porn industry, Blake Blossom. This blonde temptress has strongly expressed facial features, penetrating blue eyes and a charming smile that seduces. She is of average height and has a spectacular body with nice curves. Her tits are natural and have a size of 32DD, while her ass has an awesome shape and looks incredibly hot. She also has flawless pale skin that looks creamy. Blake was born on February 14, 2000, in a small town in Arizona State, where she grew up with her mother and younger brother. She lived surrounded by Mormons in a conservative society, but she never allowed them to influence her attitudes and reasoning. Blake was hearing about the sexual exploits of her friends and became curious. She lost her virginity when she finally found a guy she trusted and entrusted him with a delicate job. Blake admitted that she wasn't sure about her sexual qualities but she decided to perfect them. She also said that she fucked over 40 different guys before pornography, which would put her in the group of experienced girls. There's a bizarre fact that stands behind her all sexual experiences. She never had an orgasm. On the other side, she didn't like where her life was going. All these life occasions led her started thinking about making changes in her life. The opportunity simply dropped in her lap and she grabbed it. 
High-Class Starlet
Blake is a perfect example of a wise young woman who has stood up for herself. All her wit and talents created her great personality. She carefully considered all aspects of the porn industry before she entered it. Blake was a big fan of porn in general and she was carrying out researches about models, conditions of work and benefits. She met Ryan from Hussie Models agency through a close friend of hers and they had several meetings that they used to elaborate the first steps and strategy for the beginning of her career. Blake started her porn career in March 2020 when she was around 20 years old. Since then, the demands for this wonderful girl, her skills and talents have been constantly increasing. So far, Blake made at least 28 scenes. If we take into account her scenes from her Only Fans profile, that number is close to the number one hundred. She was appearing mostly in hardcore scenes, but she also made several solo actions.  She made her debut porn scene with Jake Adams for Exploited College Girls studio. Right after that scene, it was obvious that she is a natural-born performer and seductress. Her next contract was related to the FTV Girls studio, for which she filmed three solo scenes. The expression on her face let everyone know that she enjoyed every part of her job, especially when it comes to hardcore.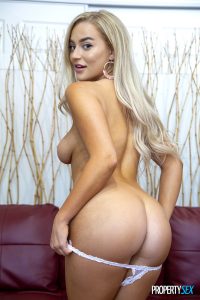 She never felt a lack of self-confidence, but she compensated for every lack in performing with strong will and dedicated work because practice makes perfect. Her sexual side is simple. She is submissive and loves rough sex. Her favorite sex position is doggy style. She especially likes blowjobs and facials but she is not a swallower. In one of her latest scene, she performed an awesome rim job on Jack Rippher. Blake made two threesome scenes with Alex Coal and Michael Masters. She also made two foursome scenes with Indica Flower, Jax Slayher and Tyler Steel. Her BDSM VR scene called 'Fifty Shades of Blossom' raised her in heights. Even the famous director Alex Nash was impressed by her sexual energy, sensuality and professionalism in this scene. Blake worked with a bunch of famous porn actors such as Brick Danger, Chad White, Dan Ferrari, Duncan Saint, J-Mac, Jay Romero, Oliver Flynn, Preston Parker, Ramon Nomar, Ricky Johnson, Scott Nails, Sean Lawless, Tony Profane, etc. This stunning girl had contracts with the biggest porn studios such are Reality Kings, Brazzers Network, Nubiles, Vixen, Blacked, Hussie Pass, Bang Bros Network, Mofos, See Him Fuck, X Empire, Sex Like Real, and so on. Considering that she is just a bit less than a year in the industry, and also as she said that this is just warming up, we are definitely witnesses of the birthing of a super-star.
Achievements
Blake already has many achievements. The first one came in December 2020 when she was declared for the Pet of the Month of Penthouse magazine. She was nominated on AVN Awards 2021 in two categories, for the Hottest Newcomer and the Most Spectacular Boobs (both are fan award). She is ranked 69th place on Pornhub's most popular porn-star list at the moment. She has over 130K Pornhub subscribers and her videos have been viewed over 100 million times. Blake rarely has free time. She is completely dedicated to creating quality content for her profiles on Only Fans and Model Hub. She finds new ideas in movies and cartoons. Blake accepted many suggestions from her fans that she is getting on social networks. Her favorite place for chatting with fans is Snapchat.
Exclusive Short Interview with Blake Blossom
LORD: Hello Blake, would you tell us about your life before porn ? BLAKE: I was going to college to become an attorney while also running a tutoring business.
LORD: How and when you started to think about becoming a porn actress? BLAKE: I had just started my OnlyFans after my 20th birthday and was needing a change in my life. A close friend had mentioned that I would be perfect for porn, and that's when the seed was planted. I spent hours developing a brand and planning out how I wanted to navigate this new industry. There were a lot of doubts in my mind but I felt that this was the right way for me to go. All my time and energy went into developing Blake Blossom for a few weeks before I dived into my first scene.
LORD: Is there any actress that inspire you? BLAKE: Angela White is such an amazing performer and I was so excited to be filming with her. And after experiencing a scene with her, I was in awe of her pure talent. She knew exactly what to say at the perfect moment and was giving 110% of herself to the camera. I hope that one day I can get to the level of professionalism and charisma.
LORD: What is the origin of your pornstar name? BLAKE: I knew that I wanted to have an emoji associated with my name. So after searching through the catalogue, my agent Ryan and I decided 'blossom' would be too much for a first name. As Blossom as my last name, we moved on to the first name. I wanted to have a traditionally used boy name and after a few google searches, we felt Blake Blossom would be the perfect name for me.
LORD: What was your first scene and how was the experience? BLAKE: My first scene was for Exploited College Girls based in Arizona. They ended up breaking my scene into two separate videos. It wasn't like everyone described. I wasn't that nervous and felt like a natural talking to the camera.
LORD: What's your favorite porn scene you made? BLAKE: It hasn't been released yet, but I got to play a Dom and wore a full latex outfit.
LORD: What do you like sexually? BLAKE: I really love passionate sex. And obviously, giving blowjobs on giant dicks!
LORD: What do you like to do in your free time ? BLAKE: I spend a lot of my free time relaxing, taking baths and watching movies. Getting massages have helped me with soreness throughout my body. Surprisingly, filming porn everyday makes you feel muscles you didn't know you had.
LORD: How do you see Blake Blossom's future in porn business? BLAKE: I have so many projects coming out and even more in the works, so the next few months are going to be very busy.
LORD: In conclusion, tell us everything there is to know about you. BLAKE: My style would be described as 'sorority girl meets skater girl'. I love everything pink, cartoons and dancing. You can search me on Pornhub and also find me on Twitter, Instagram and Snapchat at @BLKBLSSM and subscribe to my OnlyFans at onlyfans.com/blakeblossomxxx
Date posted: March 10, 2021 TheLord