Jamaican Princess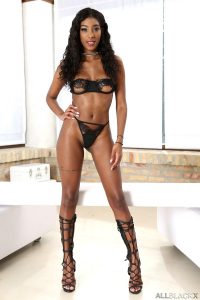 Asia Rae was born on April 30, 1995, in London Borough of Wandsworth, England. This Jamaican girl could be the synonym for prettiness with her long and wavy black hair, dark-brown eyes, and full lips that form a beautiful, wide smile. Her body is also a true perfection. Mother Nature gave this girl a body that the world deserves to see and admire every day. She has perfect tits of average size, 34B. You probably haven't seen such an amazing ass in a long time. It is firm and we like to call it a piece of art. Her only tattoo is on the right thigh and is also her philosophy of life: live every moment – love every day – love beyond words. She also has a piercing in her tongue. Asia lost her virginity as a teenager. She woke up one day and thought: I want to have sex. She called a friend to help her. But her first sexual experience ever is a blowjob that she gave to a school-mate. She had a short career in British Airways as a flight attendant. She loved that job, but it was too exhausting for her. Somehow at the same time, she started visiting swinger clubs and working as an escort lady. She heard a lot of suggestions and confirmations that she should become a porn star.
Ordered to Cum
Asia is a smart and intelligent, free-spirited, and open-minded young woman with a refined sense of humor. She doesn't see working in the porn industry as a job, but rather as a passion, which fully explains her constant need for sex. Asia calls herself a sexual pioneer and she is bisexual. In one interview she stated that she fucked around 50 guys and even more women, so her sexual experience cannot be questioned. Also, she was in a relationship with a girl for two years. Asia started her porn career in November 2019 and so far, she appeared in at least 14 scenes. Her sexual imagination has no limits, which she showed in her solo, lesbian, and hardcore scenes. Asia masturbates every day, and she claims that, except for it is healthy, it helps her to remove stress. She likes to use her fingers and sex toys, but nothing is better for her than a hard cock. Although she is submissive to men, she likes to dominate girls. Her lesbian scenes are the real proof of her sexual attitude; endless games of passion and lust. So far, she has made two lesbian scenes with Lexi Dona and Sofia Lee. Asia has a threesome scene with a cute porn star, Zaavaadi. Cock-sucking is Asia's greatest passion.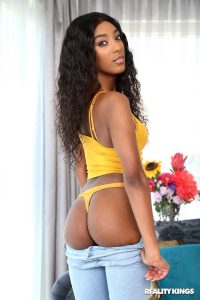 She always swallows cum under the excuse not to waste the good stuff. She likes all sex positions, but it seems she the most enjoys a cowgirl. She prefers wider cocks over longer, but they have to be hard. Asia loves hard sex and all those revolving things like slapping, choking, dirty talking, tidying up, etc. Her fetish is peeing. In her private life, she demands from guys to pee on her face and all over her body. Pierre Woodman gave her an instructive lesson in anal sex where it seemed she will get a heart attack from cumming. Asia worked with actors such are: Chris Diamond, Marc Kaye, Max Fonda, Michael Fly, Pascal White, Raul Costa, Ricky Rascal, Yves Morgan, etc. As an independent model, she managed to find a way to work for studios such as Reality Kings, Sexyhub, Virtual Taboo, X Empire, Pascal's Sub Sluts, 18VR, Rock Charogne, etc. She has no doubts about the quality of her work and is aware of the way ahead of her. It seems this girl has the recipe on how to reach the top. She is also aware that her audience would like to see a spectacle. She has an ace up her sleeve and will pull it out soon: Expect to see her in a blow-bang action with ten guys.  
Privacy
We couldn't find much information about her private life. She likes watersports and weed smoking. In her opinion, working out in the gym is pointless when sex exists. She makes self-created content for her Only Fans profile. She is active on Twitter and Instagram. Date posted: October 25, 2020 TheLord